As we get closer to Christmas people start thinking about buying puppies as gifts for kids or other family members.   To be quite honest, the holidays are one of the worst times of the year to add a pet to your household and I don't personally recommend getting puppies (or rescues or adult rehomes for that matter) as Christmas gifts.   However, if you are dead set on getting that puppy or dog for Christmas, please do your research on all the breeds you are considering.  That cute puppy is not going to stay a tiny, cute puppy forever.
Due to their tiny size, energetic personality and adorable looks many people think that they would like a Papillon without really researching the pros and cons of the breed.   I have been a long time Papillon owner and we get so many compliments when we are out with one of our guys.  Everyone loves them and says they want one.   I happen to think they are great dogs, but they are definitely not for everyone.
They are often called 5 pound Border Collies.  They are very smart and that can lead to trouble if they are bored and left to their own devices.  They can also be on the barky (read: shrill and yappy) side.    All the books say they are cat like and they are, but don't let that fool you into thinking that means QUIET like a cat 😉
They are great, portable companions that generally like to be with their human and travel pretty well.
To find out more pros and cons about whether the Papillon is right for you, check out this site: Is A Papillon The Right Breed For Me?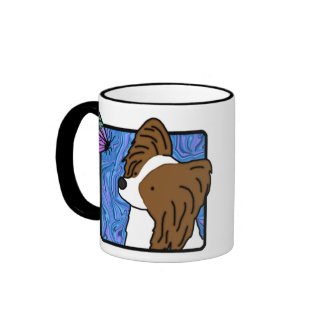 Papillon Butterfly Dog Mug
by
MenagerieMayhem
Browse more
Papillon Mugs